Sii teams are a game changer – discover how we help 6 fastest-growing industries reach their full potential
Since entering the market, Sii has been working on projects for international players representing various sectors.  To reach clients looking for technological development based on specific requirements dictated by industry trends, the company was successfully reorganized in 2019. Now, with its industry-based structure and 6 separate units, Sii experts can provide special services to clients operating in a variety of sectors, including automotive and transportation, hi-tech and electronics, healthcare and life sciences, banking and financial services, retail and consumer goods and public and utilities.
The very beginning
There were a few factors influencing the decision to create dedicated units at Sii. These included, among others, the need to formulate and then follow a strong sector-based marketing and business strategy and to effectively share knowledge. 
– Before reorganization, no one was accountable for business development strategy for the already serviced industries globally – says Ryszard Pytko, Chief Commercial Officer at Sii. – Therefore, it was impossible to accumulate knowledge gained during cooperation with organizations with specialization in specific fields – he adds. 
The newly established position of the Head of Industry became the answer to this problem. The role was to include preparing action plans and comprehensive strategies, finding investment opportunities, assessing prospects, supporting knowledge sharing as well as building expert teams and community within their industry.  
– As a result of the restructuring, we had a chance to get to know the ins and outs of each sector and master new terminology, which now helps us accurately understand the requirements of our clients. Thanks to working with a narrower group of companies, our industry-specific teams can produce the offer appropriately, adding the desired products and services, when needed – explains Przemysław Włoczkowski, Head of Hi-tech, Electronics & Industrial engineering Industry at Sii.
Road to the success of Sii's Industries
Automotive, rail & aeronautics
Despite the coronavirus pandemic, having a severe impact on the automotive sector, the Automotive, Rail & Aeronautics Industry, with Szymon Karaś as its Head, maintained a strong market position. It continued cooperation with Bombardier, Aptiv and other top sector brands using Sii's services for many years. Since 2020, the client portfolio has been diversified with the establishment of partnerships with multinational giants such as Mercedes-Benz, Schaeffler, Merit, Harman, Navblue (part of AIRBUS) and Toyota Material Handling.  
– The automotive sector is the most important branch of the German economy, valued annually at over EUR 400 billion. In connection with the challenges faced recently by the industry, i.e. the need to rebuild supply chains after the pandemic and growing demand for vehicle electrification, major automotive brands were looking for reliable partners in Central and Eastern Europe, and we had the expertise and resources to tackle their problems – explains Grzegorz Brzostowski, Country Business Lead responsible for Germany and Austria.  
– The automotive industry is also a central pillar of the Czech and Slovak economies. With brands like Skoda, Volkswagen, Peugeot, Toyota, Citroen, Jaguar, Land Rover, Hyundai and Kia producing their cars and car parts in the Czech Republic and Slovakia, these two countries have become the international market leaders. We are proud to offer support to our Czech and Slovak partners in the dynamic development of the industry – adds Krzysztof Danilewicz, Country Business Lead for the Czech Republic and Slovakia at Sii.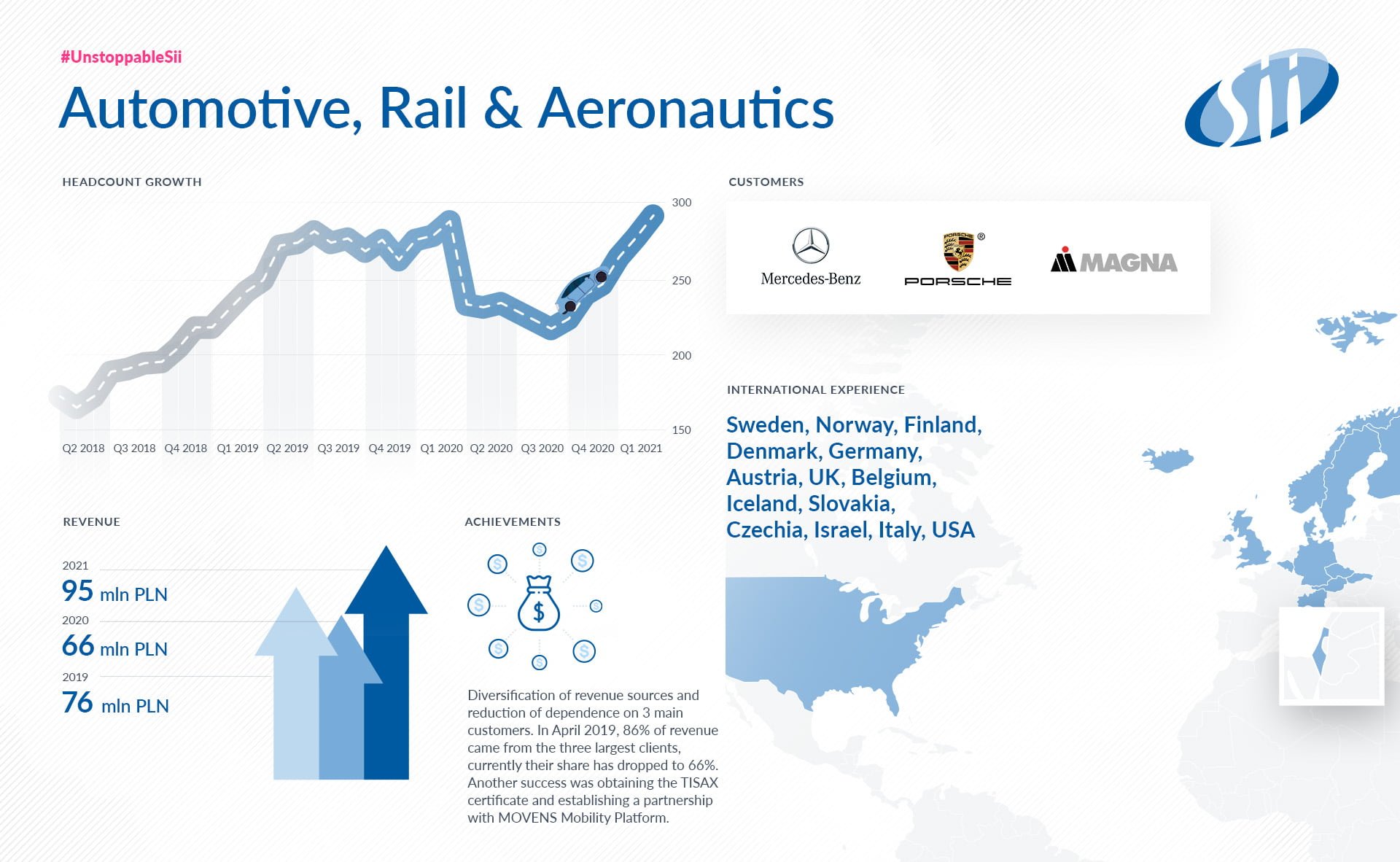 Healthcare
Last year, the dynamically developing Healthcare Industry, headed by Wojciech Drescher, generated as much as PLN 158 million in revenue. Such an impressive result would not be possible without 800 IT experts carrying out complex projects for global leaders in the medical and life science sector such as Qiagen, Bausch Health, BD and Sonova, just to mention a few. 
− Among others, we obtain a lot of positive feedback from the Swedish market, which is proved by the rapid development of our cooperation with Sartorius and Exoneural – says Michael Desmurs, Country Business Lead focused on the Nordics region. 
One of the unit's most significant achievements in 2020 was building expertise in widely understood validation, medical device software, low-level programming as well as bioinformatics. Another success was acquiring manufacturing competences, especially in the area of Smart Factory for Pharma & Biotechnology. Apart from that, the unit has successfully delivered comprehensive services based on digital therapeutics or dedicated Life Science applications and systems. Also, this year the Healthcare Industry reached another important milestone – the prestigious ISO 13485 certification.
Financial services, banking and insurance
At the end of the 2019–2020 financial year, the Financial Services, Banking and Insurance Industry, led by Head of Industry Marcin Stadnik, generated PLN 206 million in revenue to reach PLN 250 million in the next year, increasing the involvement of IT specialists from 700 to over 1000 people in August 2021. The unit's success lies in the development of numerous partnerships with the world's largest banking groups, European banks and most of the leading banks and insurance companies in Poland. Due to the continuous evolution of cooperation models, the Industry takes more and more responsibility for the entrusted areas, all the while increasing the benefits generated by agile teams. The range of its consulting services has expanded to support clients in the field of ITSM systems, SAP, Dynamics CRM, Salesforce, RPA and intelligent data capture and process/task mining. Among other professional competences, the unit has invested in are ​​Cybersecurity, Business Intelligence, Agile, Testing and BPO (including KYC/AML).
Retail, logistics & consumer products
The Retail, Logistics & Consumer Products Industry headed by Adrian Gola offers a wide selection of sector-focused solutions. E-commerce, PIM, Customer Journey, WMS systems, warehousing & packaging automation, inventory & order management integrations and EDI have been its area of expertise since day one. For the first few quarters, the monthly revenue of the business unit was around PLN 6 million to rise by over 50% to PLN 13 million in 2021. This was possible thanks to the extensive knowledge of more than 500 experts working in retail projects, who only this year gained the trust of 47 new companies. They joined the list of such prestigious clients as Hapag Lloyd, Kuehne + Nagel, Puma, Reckitt, LPP and Tikkurila.
Hi-tech, electronics & industrial engineering
From the very beginning, the mission of the Hi-Tech, Electronics & Industrial Engineering Industry and the unit's Head – Przemysław Włoczkowski – was to empower global enterprises through technology. The COVID-19 crisis proved that it is the innovation that keeps the business going and contrary to expectations, the number of clients looking for technological support at this difficult time increased. The unit, using its deep-domain industry expertise and customer-centric approach, has not stopped delivering R&D projects and sector-specific solutions. Sii has been continuously providing services in the area of semiconductor product engineering, payment solutions & secure transactions, cybersecurity, IoT, digitization, AI, cloud services and solutions for both Telco OEMs and mobile network operators, constantly improving its business results. The offer of the Hi-Tech, Electronics & Industrial Engineering Industry has been attracting the interest of brands from all over the world, including Switzerland. 
 – We know Switzerland as the leader of the ranking of the most innovative countries in Europe. Many Swiss companies have their R&D centers, but more and more frequently they are also looking for reliable, highly-skilled technology partners. We observe that a growing number of them turns to Sii for help and, most importantly, stays with us for longer – explains Maciej Topczewski, Country Business Lead for Switzerland at Sii. 
Public & utilities
The Public & Utilities Industry led by Head of Industry Marta Przeor which provides services in the field of BI, digital workplace, cybersecurity and ERP systems, has not slowed down, achieving new, spectacular milestones and generating much higher revenue. With over 160 domain experts on board, it was possible to establish long-term cooperation with public institutions, including the Ministry of Justice, the Ministry of Finance and the E-Health Center. Other major projects were based on proposing and implementing systems and tools supporting the digitization of internal processes at SHV Energy, Gaspol and Vestas, widely known as leading brands in the constantly changing energy sector.  
– We find our partnerships with Nordic companies active in the area of green energy really promising as growth in renewables is forecasted to get stronger and stronger in this region in the coming decades. For us, this means new technological projects and fresh, exciting challenges we are all ready to take on – explains Michael Desmurs, Country Business Lead for Nordics at Sii.
Simply unstoppable
Sii Industries are already looking into the future determined to conquer undiscovered technological areas and never miss any opportunity. Gaining specialist expertise and creating long-term value for clients, the units have also planned actions that will allow the development of their consulting offer to advise clients on new solutions and help tackle sector-specific issues. With favorable financial forecasts, Sii Industries are expected to constantly grow in size, increase their market share and generate more revenue. 
If you are interested in solutions supporting your industry or have any questions regarding our latest developments, please contact our experts.